An efficient dealership management software ought to be easy to use. This is especially true with the accounting department. That's why instead of building an accounting module within EverLogic, we decided to integrate fully with QuickBooks.
LEARN MORE: QuickBooks accounting in EverLogic
The problems with built-in accounting modules
To be fully transparent, we must acknowledge that some other dealership software companies do have well-designed accounting modules. Additionally, you do not have to buy a separate license for the accounting module. So, on paper, it makes sense to have a DMS with built-in accounting.
However, nothing on the market can match the power of QuickBooks. Its reputation as the leader in accounting software is well deserved. Built-in modules, even if they are well-designed, still typically have limitations that can prove frustrating. They do not work with the number of banks that QuickBooks does.
RELATED: Differences between QuickBooks & integrated accounting for dealerships
Many built-in accounting modules will not let you manage multiple types of business. For example, if you need accounting for a service department, some accounting modules may not allow you to manage that.
It is also difficult to get the information you may need to help your business grow. For example, if you have an investor that wants to put money into growing or even buying your dealership, you can expect them to ask to see your books. What you want is an easily accessible report of the long-term growth of your dealership.
Some built-in accounting modules allow you to see only a limited report of figures during your time using the software. This means you will have to spend hours combining that report with your old records to build an entirely new report from scratch.
Finally, people are familiar with QuickBooks, particularly people with experience in accounting. If you have used QuickBooks in the past and then move away from it in favor of a built-in system, your accounting person is going to have a lot to learn in order to do the same job. Additionally, if you hire a new accounting person, they are likely to know QuickBooks, whereas the chances of them being intimately familiar with a built-in system are slim.
Why EverLogic integrates with QuickBooks
Two decades ago, Mike Goodwin's brother-in-law, the owner of an RV dealership in Jacksonville, FL, presented him with a problem. He found the dealership management software he was using to be inefficient. He told Mike that his dealership would spend hours entering data in both the DMS and QuickBooks. Mike had an 'Ah-Ha!' moment, realizing if a DMS could integrate with QuickBooks, dealers could save hours of time and thousands of dollars.
Of course, back then, that software didn't exist. So, Mike set out to develop what would become EverLogic.
EverLogic in its early years worked hard with QuickBooks so it could have the most robust integration possible. With that integration, the need to enter the same data in two different software was eliminated. It remains one of the features that sets EverLogic apart from any other dealership software on market.
RELATED: Explaining EverLogic's integration with QuickBooks
How EverLogic's integration works
You may be curious as to what is transferred between QuickBooks and EverLogic. That is partially dependent on what works for your dealership. EverLogic can transmit sales and data, accessory purchases, deposit data, and new customers and vendors. However, this is customizable based on your preferences.
No matter how much or how little data you want to be transferred to QuickBooks, the process is still done largely with the click of a button without having to open QuickBooks. Basically, once you post a deal in sales, the information is sent to QuickBooks.
During the end-of-day (EOD) process, you can get a breakdown of all your transactions and payments that day to make sure it is correct before you send the report to QuickBooks. If something is wrong, you can make changes. Once you verify all the information is correct, you can process the EOD and then send it to QuickBooks.
EverLogic integrates with QuickBooks on all of the following points:
Vehicle sales and data

Parts and service sales

Vehicle purchases data

Parts and accessory purchases

All Deposit data

New customers and vendors
EverLogic's QuickBooks integration helps your dealership grow
Many dealerships change their dealership management software multiple times. One frustration that comes out of changing a DMS is entirely new accounting software. This includes the time-consuming task of manually transferring data from one built-in accounting system to another.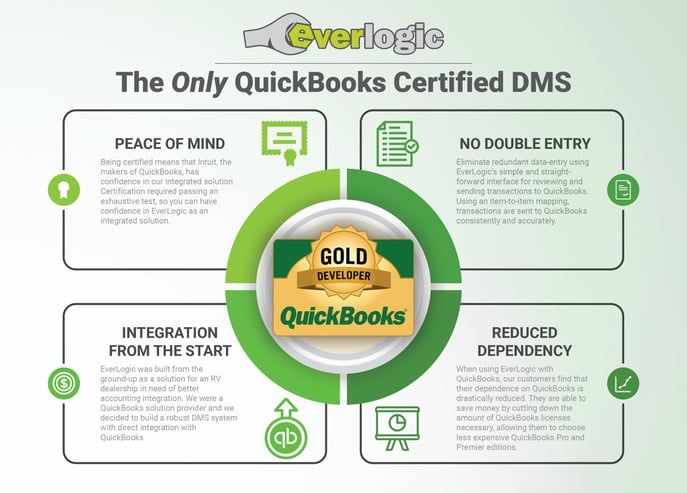 EverLogic dealership management software harnesses the power of QuickBooks
The advantage of using QuickBooks is consistency. QuickBooks is the most-trusted name for accounting software with a solid reputation. It is familiar to virtually anyone with accounting experience. It is customizable to handle the needs of your dealership.
If your dealership sells different types of vehicles and parts, as well as services vehicles, you need accounting software that has the flexibility to handle each part of your business. And because QuickBooks supports multiple locations, it expands with you.
These are the reasons why EverLogic makes sense if your dealership wants to go with QuickBooks accounting. Our integration with QuickBooks allows you to harness the full power of QuickBooks without having to use it separately. Instead, EverLogic and QuickBooks work together for speed and accuracy. This will improve your dealership's efficiency and help you to make a bigger profit through time and money saved.
If you want to learn more about how EverLogic works, you can click on the button below to view our free demo.
Tags: