EverLogic released its first desktop application in 2003 to increase dealerships' profits through efficiency. This remains true with EverLogic Mobile.
EverLogic Mobile is an add-on feature that allows salespersons and technicians to input information into EverLogic without having to log on to a desktop computer. It will save your service and sales departments hours of time each week.
Let's look at exactly what EverLogic Mobile is and the many benefits it can bring to your dealership.
What is EverLogic Mobile?
EverLogic Mobile is a browser-based mobile version of EverLogic. This means a user does not need to download an app and can use it on any mobile device with a browser.
For technicians and salespeople, EverLogic Mobile is designed for both speed and efficiency. Some of the benefits of EverLogic Mobile are:
Salespeople can create a new customer, check existing inventory and begin a quote in EverLogic without having to leave the customer's side
Sales team can input information for new vehicle inventory into EverLogic
Technicians can start and stop a time close for any service item without leaving their workstation
Technicians can upload pictures directly from their mobile device
EverLogic Mobile is completely integrated with EverLogic Core Desktop
Dealership owners can save hundreds of dollars in licensing fees
RELATED: Mobile Dealership Software: 11 benefits of the EverLogic Mobile app

Benefits of EverLogic Mobile for sales
Demonstration of EverLogic Mobile functions for sales departments
Before mobile devices, customers would have to sit at a desk and look across at a salesperson inputting information into a computer. Then, the salesperson would have to turn the monitor for the customers to see. Ultimately, you had both the salesperson and customer leaning over a desk while the salesperson explained what was on the screen.
If someone wanted a tour of a vehicle and then wanted to get a quote, a salesperson would have to leave the vehicle, go back to the desk and begin the quote. This was not only inefficient, but it affected the overall customer engagement.
With mobile devices, salespersons are now able to do their jobs while standing next to the customers anywhere in the dealership without having to go to a computer and sit down. This keeps the customers engaged longer.
EverLogic Mobile allows a salesperson to input a new customer's name, address, contact information and driver's license information into EverLogic in a matter of a couple of minutes. Then, when beginning a quote, a salesperson can input:
Customer's Name

Unit

Selling Price

Any Discount Amount

Trade Allowance

Down Payment Amount

Financing Terms

APR

Estimated Monthly Payment

Estimated Contract Price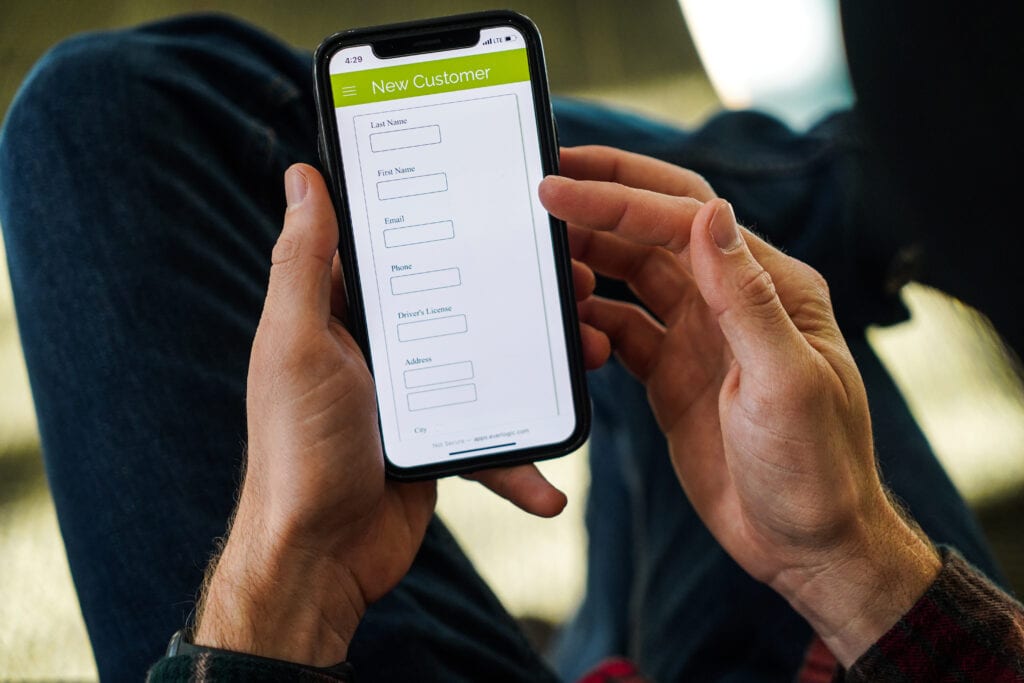 EverLogic Mobile allows salespeople to input new customers directly from their phone

A quote made on EverLogic Mobile can be sent directly to a customer's email without having to log on to a desktop computer. In fact, a salesperson can do much of the selling of a vehicle without ever having to sit behind a desk blankly staring at a computer.
EverLogic Mobile also handles vehicle inventory, allowing salespersons to input a new vehicle's stock number, year, make/model, price and more. A salesperson can also look at a vehicle currently in the inventory by price, make/model, type and status.
This ultimately saves the salesperson time while saving the dealership money by not having to buy too many desktop licenses.
Benefits of EverLogic Mobile for Technicians
Demonstration of EverLogic Mobile for service departments
EverLogic Mobile has many features that technicians in your service department will find indispensable.
Among the features of EverLogic Mobile is its own time clock. For years, dealerships used the ol' clipboard time clock or a punch time clock. Both of those methods required the technician to leave their workstation and remember to punch the work time on a service item in and out.
As a result, sometimes, the times for a repair were inaccurate. Other times, the clipboard or timesheet was misplaced or lost. If it was misplaced, somebody would have to look for it, taking up time that could be spent working on another repair.
EverLogic Mobile allows service technicians to start a job's time clock right on their device with a couple of taps. No more will they need to chase a clipboard or wait to use the desktop.
The software also helps with jobs that have warranty claims. Usually, for a warranty job, a technician has to take pictures of a damaged part, walk out to the nearest computer, upload the picture onto the computer and then put the picture in their DMS. EverLogic Mobile eliminated two of those steps.
If a repair order needs a picture for warranty purposes, a technician is able to take all the pictures on EverLogic Mobile and upload the pictures directly to EverLogic.
Technicians are also able to look up parts in the dealership's inventory, see their assigned service jobs and add jobs into EverLogic. With a little training from our customer service staff, a technician can do all the functions on EverLogic Mobile in a matter of seconds without having to leave their workstation or wait for a computer to open up.
RELATED: How EverLogic makes training easy for your dealership

How much does EverLogic Mobile cost?
Because EverLogic Mobile is a standalone, add-on product, it is not included when you buy EverLogic Core Desktop.
EverLogic Mobile is $39 per month per license. The mobile licenses may not be used for the three licenses you must buy when you sign up for EverLogic.
You can sign up for EverLogic Mobile whenever you like and can add or remove licenses as necessary with no effect on you EverLogic Core Desktop licenses.
Ultimately, not only can EverLogic Mobile save you money through efficiency, but it can also save you hundreds in licenses. EverLogic Core Desktop is $129 per license per month, and you must have to purchase at least three of those licenses.
If you have 10 EverLogic licenses and five are exclusively being used by salespersons and technicians with no need for the accounting and other features on EverLogic Core Desktop, you can save more than $400 by getting EverLogic Mobile.
EverLogic Mobile is just one of many ways we help build efficiency for sales and service departments of dealerships.