Customer Management is one of the basic modules virtually any dealership management software has. This module should allow you to input and find any important information about a customer throughout the sales process, as well as let your dealership communicate with them through the DMS.
After a sale has been completed, you should still be able to check in with the customer, pull up information about their history with you and know when it is time for them to have work done on their vehicle.
This article will break down some of the functions of the Customer Management Module and how they improve the efficiency of your dealership.
Learn More: EverLogic Dealership Management Software Modules
1. Easily add information to customer's profile
The Customer Management module has several features to track to better help a salesperson understand who their customer is, how they found your dealership and what their interests are.
When it comes to adding a customer, the only information that is truly needed is the name of the customer and their phone number. Other information that is optional includes a customer's address, email, birth date, and license. In addition to this information, you can include the customer's credit limit, employer and gross salary information.
RELATED: Breaking down the features in EverLogic CRM modules
EverLogic allows dealerships a fair amount of customization for customers including:
Choosing a customer's labor rate
Giving a customer an automatic discount by percentage
Choosing whether the customer is retail, wholesale or sales tax exempt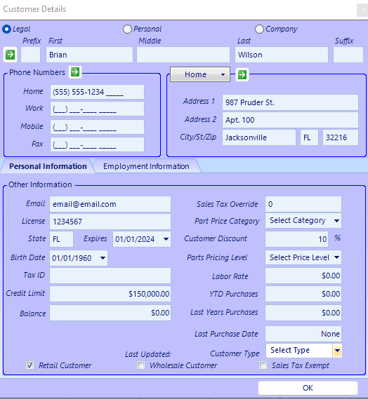 Customer Details box on EverLogic. Note that 'Employment Information' tab is separate from 'Personal Information' tab.
2. Match customers' interests to inventory with Wish List
When you have a customer looking for a new vehicle, you don't want to show them units that doesn't fit their interests or budget. That's why you can match unit inventory with customers through the Wish List feature.
RELATED: Manage your dealership's vehicle inventory efficiently with EverLogic
You can also customize their wish list. The wish list serves only as a guide to the ideal unit for a prospect. The wish list includes options on the vehicle's condition (new/used), whether the vehicle has a slide-out, fuel type (gas/diesel), price range, year, vehicle type and make/model. With the wish list filled out, you can then look up inventory that fits their wish list.
The results will show up in a list you can either print or send to a customer via email.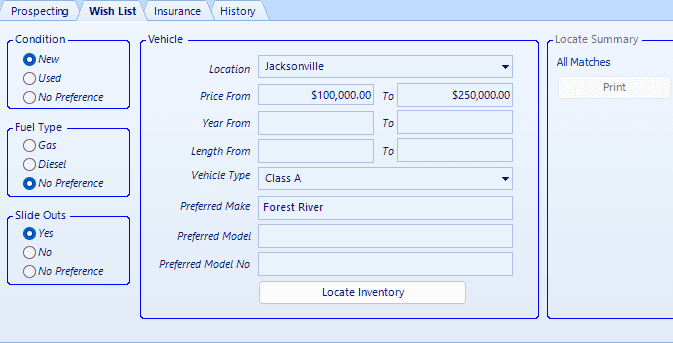 Customer wish list on EverLogic
You can also merge customers if a situation requires. For example, if you have two customers that are spouses, you can merge their profiles into one. That will detail the entire history both customers have with your dealership and also place them under one salesperson. Merging is also useful if a customer is accidentally created twice in EverLogic.
You can also run a credit check on a customer at any time by clicking an icon in their customer profile. You can get credit checks from TransUnion, Equifax and Experian.
RELATED: EverLogic supports your dealership's growth to new locations
3. Assign a salesperson and communicate with new prospect
When adding a new customer, one of the steps you need to take is adding a salesperson.
When you open the window, you will see the person adding the customer will be the default salesperson, though this can be changed. You can also add a second salesperson to the customer as well.
RELATED: RV Dealership Software and the Top 5 Problems
Right above the box that assigns the customer to a salesperson is a status bar. The bar has multiple settings which are:
New
Maybe
Hot
Not
Considering
Lost
Inactive
Warm
Cold
You can use these settings to determine where the customer is in their journey with your dealership. You can also use this as a guide to communication. EverLogic allows you to text customers with Kenect. You can also send customers emails directly through their customer profiles.
RELATED: Talk or Text? Effective communicating with your dealership's prospects
4. Customer Marketing
EverLogic also allows you to send customers marketing emails. You can set up campaigns by searching for different items customers have purchased. Search terms include unit make, model number, UPC code, part name, part number, labor code, among others.
RELATED: Dealership Marketing 101| EverLogic RV Dealership Software
A search of any of those terms will give a list of customers who made purchases with your dealership matching the term you entered. After your search, you can set up a flex view or export the list to an excel sheet. Ultimately, by grouping customers, you can market specials and send updates on recalls or seasonal work.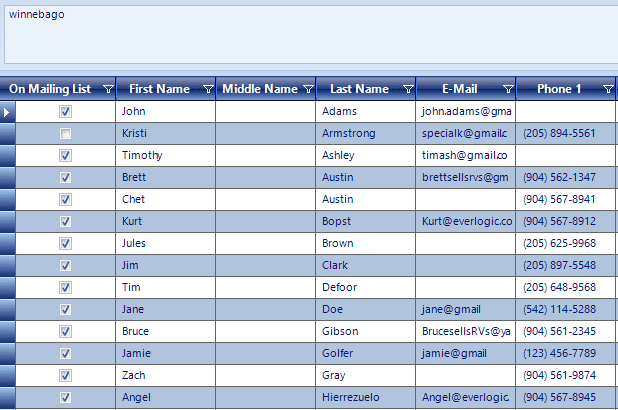 Marketing list on EverLogic
Another marketing feature is the lead source tab. Whenever you enter a new customer, you can add where they heard about your dealership. You can create flex views for all your different lead sources (Google, TV ad, radio ad, etc.) and get a better idea of what is driving customers to your dealership.
RELATED: 5 ways to engage customers on your dealership's social media
5. Staying in touch with customers
Retaining customers and turning them into loyal customers is important for any business, particularly dealerships. That's why EverLogic makes it easy to keep up communication with your customers after buying a unit or service work.
If you click the Customer Followup button in the Customers section of EverLogic, it will give you a list of customers who recently had service, recently bought a vehicle or are prospects. This feature allows you to keep up with the customers you need to stay in close contact for better customer service.
You can also follow up with a customer on their customer profile.
Conclusion
When choosing your dealership management software, you want to make sure you can manage your customers with ease with as few additional steps as possible In EverLogic, you decide how much information each customer needs in their profile. In the customer management module, you can also run credit checks, track their history with your dealership and text/email them for follow-ups, check-ups or marketing purposes.
RELATED: Determining the value of a dealership management system (DMS)
You can also make flex views for customers based on the unit they own, their location, status and more. And if you need to merge two profiles for any reason, you can do it with a single click of your mouse.
If you are interested in seeing the customer management module, or any module, in action, click on the button below to view our free demo.